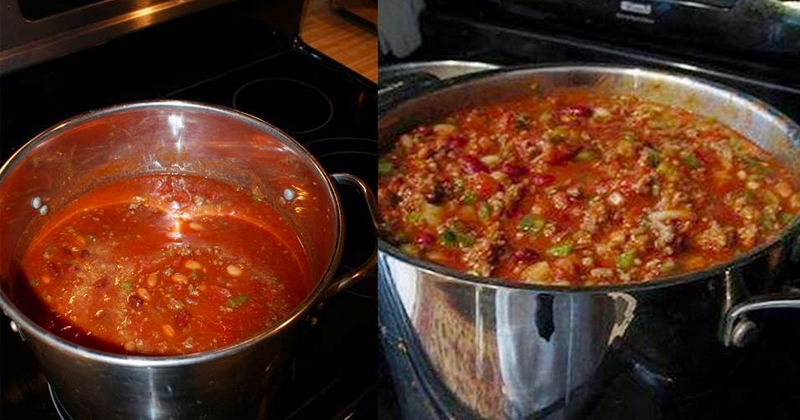 Chili is one of those meals that you either love or hate.
Some people really love it, others cannot stand it.  I am in the middle.  I neither love or hate it, but when I love one recipe, I cannot stop making that one.  I really detest store bought chili because it usually has an unnecessary spice that I am not fond of and has too many veggies and too little beans.  I want more of it the other way around. That is why I decided to find my own recipe for this.
Ingredients
2 pounds fresh ground beef
1 quart tomato juice 1 (29-ounce)
can tomato purée 1 (15-ounce)
can red kidney beans, drained 1 (15-ounce)
can pinto beans, drained 1
medium-large onion, chopped (about 1 1/2 cups)
1/2 cup diced celery
1/4 cup diced green bell pepper
1/4 cup chili powder (use less for milder chili)
1 teaspoon ground cumin (use more for real flavor)
1 1/2 teaspoons garlic powder
1 teaspoon salt
1/2 teaspoon ground black pepper
1/2 teaspoon dried oregano
1/2 teaspoon sugar
1/8 teaspoon cayenne pepper
Directions
In a large skillet, brown the ground beef. Drain off the fat. Put the beef and the remaining ingredients in a 6-quart pot. Cover the pot and let the chili simmer for 1 to 1 1/2 hours, stirring every 15 minutes.
Warning
: count(): Parameter must be an array or an object that implements Countable in
/home/healthyprintable/public_html/wp-content/themes/flex-mag-child/single.php
on line
528